MP LAUNCHES ARTS SCHEME FOR VISUALLY IMPAIRED
10:30 - 07 September 2004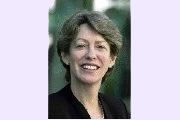 Government minister Patricia Hewitt MP launched an innovative awards scheme which will help talented artists with a visual impairment to develop their skills.
Ms Hewitt, Secretary of State for Trade and Industry, launched the Vista Art Awards at the charity's Leicester resource centre on Friday 10th September 2004.
Vista, formerly known as The Royal Leicestershire, Rutland and Wycliffe Society for the Blind, has been serving the interests of blind and partially sighted people in Leicestershire and Rutland since 1858.
The Vista award project will identify talented visually impaired artists from the region and offer financial aid to help take their work to a wider audience.
Ms Hewitt spent time looking at paintings, sculptures and craftwork completed by visually impaired artists and speak to their creators at an exhibition at the centre before formally announcing the awards scheme open.
Vista is set to run the scheme in partnership with Art-Travels.co.uk, a travel website which combines tourist information with details of UK-based art, artists and galleries.
The website will encourage advertisers to donate a total of £4,000 to the Vista Awards scheme and will add a further £1,000 when the target is reached. The fund will be used to grant Vista Awards for anything ranging from basic materials to art college tuition fees.
There are now nearly 6,000 people registered as blind or partially sighted in Leicestershire and Rutland.
The Vista Resources Centre is in Gedding Road. For more information, call 0116 249 0909, or e-mail: info@vistablind.org.uk